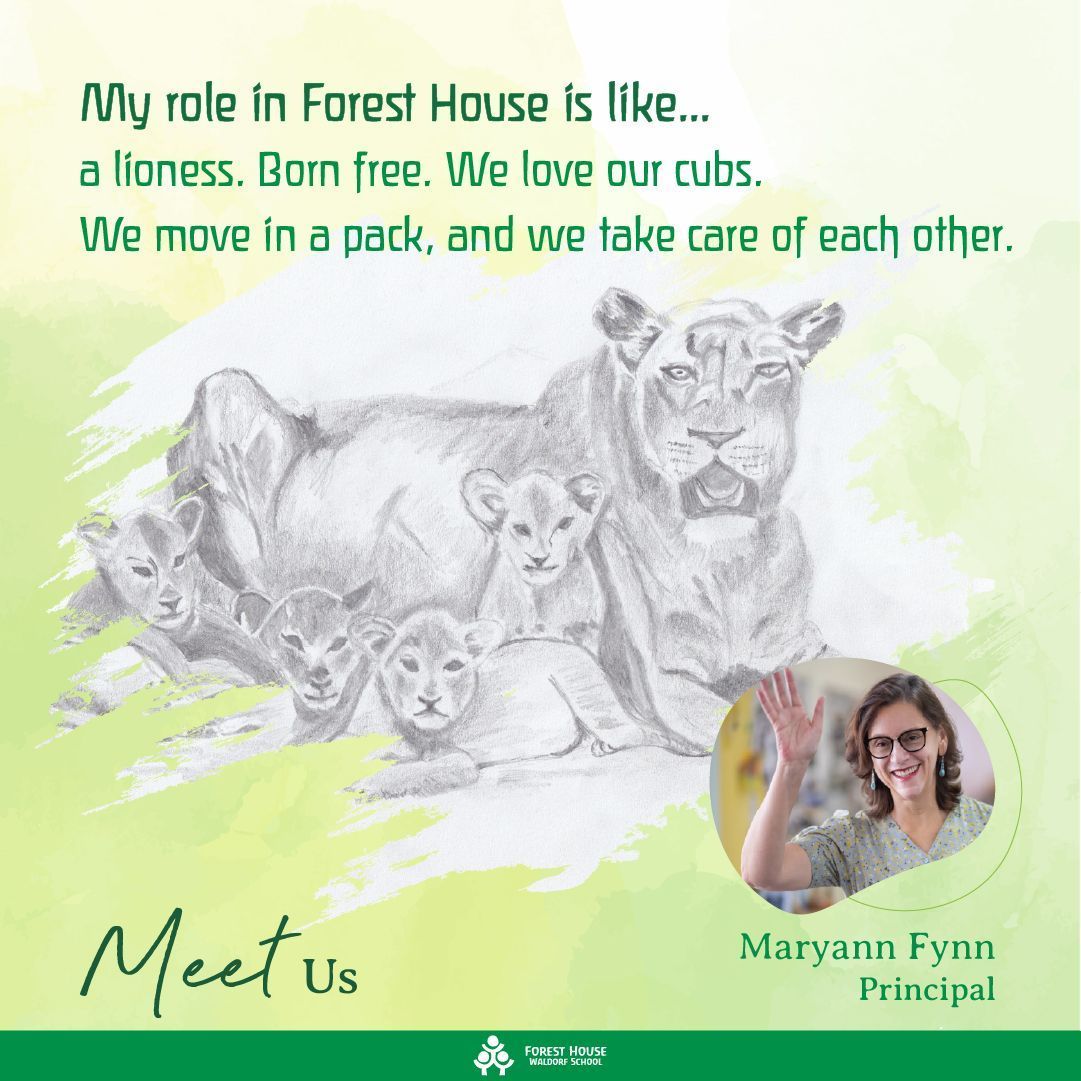 Ms Maryann Fynn
Ms Maryann Fynn
Ms Maryann Fynn
【Meet Us - 01】In our big 🌳Forest House🌳 family, each of us has a dream in our heart with different visions for education and the future of our students that we always want to share with you. With this new column, our "family members" will meet with you individually to let you know more about us. To begin with, let's welcome our principal, Ms Maryann Fynn, to share her thoughts and drawing with you! 👏✨
1️⃣𝗠𝘆 𝗿𝗼𝗹𝗲 𝗶𝗻 🌳𝗙𝗼𝗿𝗲𝘀𝘁 𝗛𝗼𝘂𝘀𝗲🌳 𝗶𝘀 𝗹𝗶𝗸𝗲…
a lioness. Born free. We love our cubs. We move in a pack, and we take care of each other.
2️⃣🌳𝗙𝗼𝗿𝗲𝘀𝘁 𝗛𝗼𝘂𝘀𝗲🌳 𝘀𝘁𝘂𝗱𝗲𝗻𝘁𝘀 𝗶𝗻 𝗺𝘆 𝗲𝘆𝗲𝘀 𝗮𝗿𝗲…
the picture of fun and freedom. They are happy, full of joy, free and not scared to take risks.
3️⃣𝗘𝗱𝘂𝗰𝗮𝘁𝗶𝗼𝗻 𝗳𝗼𝗿 𝗺𝗲 𝗶𝘀…
You will never go hungry and never know what you will find. Yet, you will always have the joy of being able to go fishing.
4️⃣𝗔𝘁 🌳𝗙𝗼𝗿𝗲𝘀𝘁 𝗛𝗼𝘂𝘀𝗲🌳, 𝗜 𝗵𝗼𝗽𝗲…
to be remembered as part of the team that helped to extend Waldorf education into high school. I hope our graduates will be recognised for their flexibility, creativity and willingness to take intellectual risks as they continue to reach their goals.