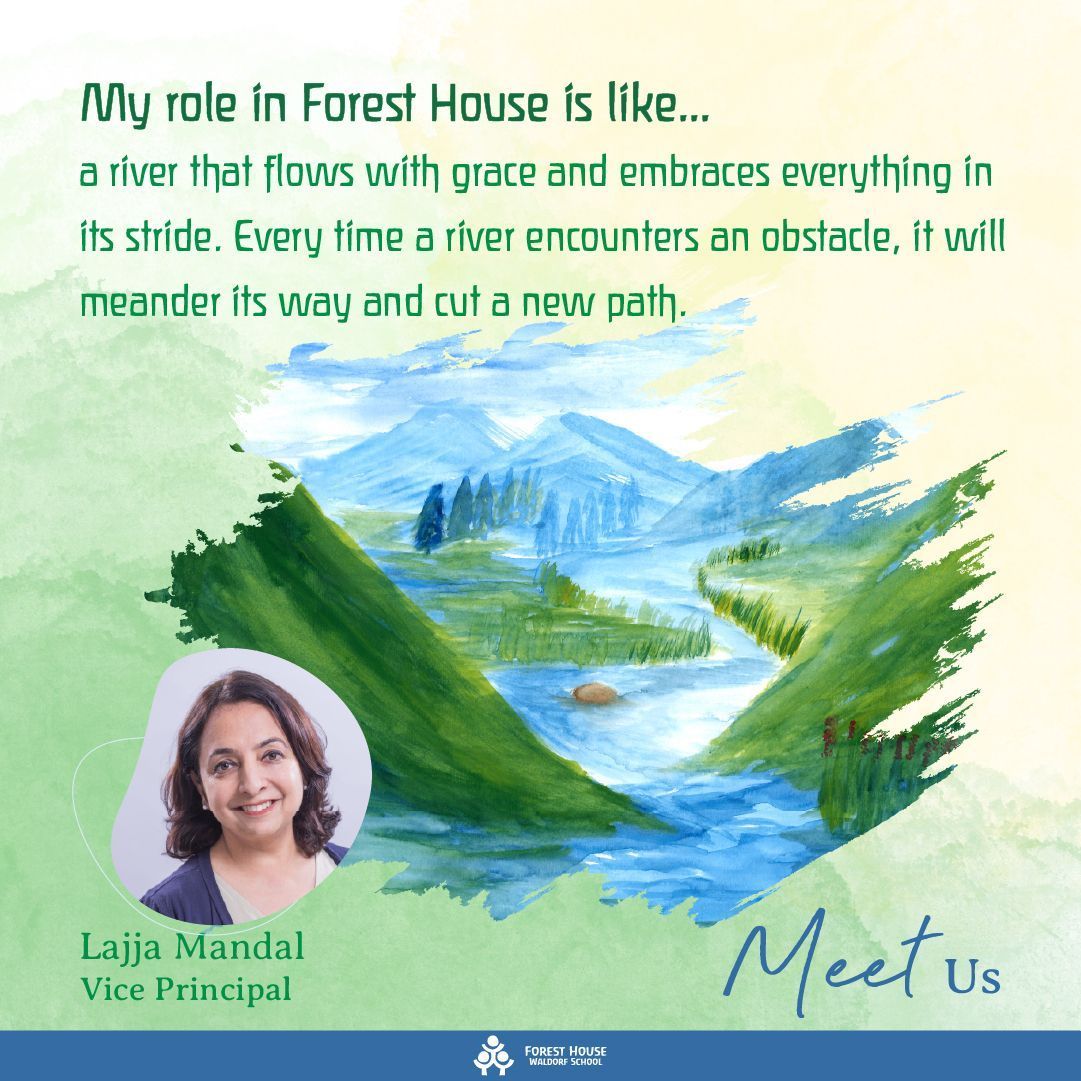 Ms Lajja Mandal
Ms Lajja Mandal
Ms Lajja Mandal
【Meet Us - 02】Education is like a flowing river that never ends. Our vice principal, Ms Lajja Mandal, describes herself as part of the long river in 🌳Forest House🌳, who can overcome difficulties while passing by mountains and obstacles along the flow. Let us welcome Ms Lajja to "Meet Us" and share her thoughts. 👏✨
1️⃣𝗠𝘆 𝗿𝗼𝗹𝗲 𝗶𝗻 🌳𝗙𝗼𝗿𝗲𝘀𝘁 𝗛𝗼𝘂𝘀𝗲🌳 𝗶𝘀 𝗹𝗶𝗸𝗲…
a river that flows with grace and embraces everything in its stride. Every time a river encounters an obstacle, it will meander its way and cut a new path.
2️⃣🌳𝗙𝗼𝗿𝗲𝘀𝘁 𝗛𝗼𝘂𝘀𝗲🌳 𝘀𝘁𝘂𝗱𝗲𝗻𝘁𝘀 𝗶𝗻 𝗺𝘆 𝗲𝘆𝗲𝘀 𝗮𝗿𝗲…
young people who are independent thinkers and problem-solvers, aspiring painters who blend beauty and function and best reflect the character of a multicultural world, capable of creatively and academically meeting the challenges of their time.
3️⃣𝗘𝗱𝘂𝗰𝗮𝘁𝗶𝗼𝗻 𝗳𝗼𝗿 𝗺𝗲 𝗶𝘀…
a journey of lifelong learning, commitment to the core task of educating children and helping cultivate their intellectual, emotional, physical and spiritual capacities to be individuals who go on to become empathetic leaders.
4️⃣𝗔𝘁 🌳𝗙𝗼𝗿𝗲𝘀𝘁 𝗛𝗼𝘂𝘀𝗲🌳, 𝗜 𝗵𝗼𝗽𝗲…
to co-create a culture of togetherness & shared vision. A vision guided by Forest House's Values and Objectives alongside all its stakeholders to motivate and unify everyone to be their best.